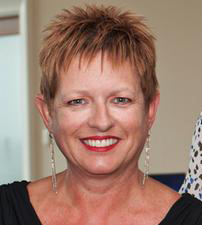 Darlene Schultz, President and CEO
Darlene serves as the President and CEO of 3Keys, Inc. She joined the organization in 2009 as Director of Development and was named President and CEO in 2012.  Darlene has overseen the development of 3Keys's affordable housing management component, the growth of the organization from 241 units of permanent supportive housing to 477 units, which includes five single site facilities and two scattered site facilities, as well as multiple preservation projects at 3Keys properties. In 2010, Darlene was awarded the Dancing Elephant Award by the Georgia Psychiatric Physicians Association for her outstanding service and commitment to the field of mental health administration. She has previously served on the Board of Directors for Mental Health America of Georgia and currently serves on the Board of Directors of Georgia Works!.
Prior to joining 3Keys, Darlene worked for the Atlanta Braves, The Weather Channel and Time Warner Digital Media for ten years. Her first job in 1978 was as Assistant Director of the Cheerleaders for the Houston Oilers (now Tennessee Titans) football team.  Darlene resides in Atlanta with her husband John and has five grown sons.
Patricia Durrett (Pat), Controller
Pat grew up on the central east coast of Florida with her three brothers. She attended the University of South Florida in Tampa, where she majored in Finance and subsequently received her MBA.
Pat started off her career as an equity analyst for a boutique investment firm specializing in banks and savings and loans. A job with the Comptroller of the Currency brought her to Atlanta, where she met and married her husband, Jim, and where they now live. They have two adult sons.
Pat worked with the Fonda Family Foundation from 2000 to 2008 in the capacity of financial manager. She worked with Jane Fonda's personal, business and charitable finances, but enjoyed the charitable causes the most. Pat returned to school at Georgia State University, to take her remaining accounting classes. She has worked with big (United Way of Greater Atlanta) and smaller nonprofits in all facets of finance and accounting.
Synithia Smith, Operations Manager
Synithia is the Operations Manager for 3Keys, working with all five properties to enhance property management to the residents we service. Previous to this position she was the property manager of Welcome House SRO in downtown Atlanta. She has nine years of experience in property management, where five of those years have been spent at Welcome House. During her tenure at Welcome House she has been responsible for managing a team of eight, maintaining occupancy, rebuilding the reputation of Welcome House for the residents and the community and constantly maintaining professional relationships within the community for the success of Welcome House. She is an active member of SAHAMA where she completed the Certified Professional of Occupancy course. She recently obtained a dual degree from Ashford University in Master of Administration and Public Administration.
Keith Dutton, Harm Reduction Program Manager
Keith serves as the Harm Reduction Program Manager for our Shelter Plus Care Properties and also supervises our Scattered Site Programs for 3Keys. Since joining the team he has played a major role in continuing to develop a comprehensive Policy and Procedure Manual for the Harm Reduction Program and to develop concrete guidelines for Property Managers and other 3Keys staff to follow for all Shelter Plus Care residents. These developments have helped the organization transition and mold to the new Housing First standards set by The Department of Community Affair and HUD.
Before joining the 3Keys family, Keith had 13 years of experience in the field of human and social services. He has worked in the fields of Foster Care, Community Corrections, Assertive Community Treatment, and AIDS/HIV; focusing on program development, housing first, client-centered treatment, and promoting resiliency in its participants. Keith has a Bachelor's of Science degree in Psychology from Johnson C. Smith University.
Diane Hughes, Housing Support Specialist- A Way Home
Diane Hughes joined 3Keys in July of 2015 as a Housing Support Specialist for 3Keys scattered site Housing First programs, A Way Home and Bridges to Housing. Prior to this, she was working with Action Ministries transitional housing program where she guided families moving from homelessness to independence. She also assisted in maintaining partnerships with local churches and other nonprofit and government agencies. Diane brings with her over sixteen years of direct service, and case management experience. She has worked in emergency shelters, safe houses, and transitional housing programs in two states. Passionate about social justice and ending homelessness while providing quality care to our countries most vulnerable citizens, are her top priorities. Diane graduated with a Bachelor's of Arts in Social Thought and Political Economics from the University of Massachusetts Amherst in 2001. She has been working with individuals and families experiencing homelessness since graduation. Diane currently resides in Decatur, with her husband who is a public school teacher and their three children.
Patricia Draper, Property Manager-O'Hern House
Joining the 3Keys family in early 2014, Patricia brings over 11 years of property management experience to the organization. Most recently with PRISM Realty Management, Patricia has worked with almost every facet of property management in her career, ranging from on site property management, IT, compliance, training, payroll and accounts receivable and payable. Previous to her work in property management, Patricia worked in the technology field for over 20 years. As an Accredited Residential Manager, Patricia works at O'Hern House and oversees all compliance related items for 3Keys and its properties.
Desiree Wicker, Property Manager, Presley Woods
Desiree joined the 3Keys family in 2014 as the Front Desk Supervisor at Rosalynn Apartments. She was promoted later in November 2014 to the position of Property Management of Presley Woods Apartments. Previous to her work in property management, Desiree worked in the Office Management field for over 20 years. Desiree currently resides in Covington.
Christopher Rhodes, Property Manager, Rosalynn Apartments
Christopher joined the 3Keys family in April of 2015 and brings over 12 years of property management experience, most recently with First Communities Management. Prior to working in property management, Christopher worked in law enforcement and served his country in the US Army. He currently manages Rosalynn Apartments and resides in Cobb County with his wife.
Camesha Robbins, Property Manager, Welcome House
Camesha began working at Welcome House in March 2009 as a front desk receptionists, while in school pursuing her Associate and Bachelor degrees in Criminal Justice. In 2012 she was promoted to the Assistant Manager position. In March of 2015, Camesha was promoted to Property Manager of Welcome House and is currently pursuing her Master of Art degree in Marriage and Family Therapy. Camesha feels it is an honor and privilege to be a part of such an awesome organization geared towards assisting individuals suffering from mental illness while working to end homelessness.
Rosalynn Carter – Honorary Chairperson
David Lambrecht – Chairman
Dr. Bill McDonald – Vice Chairman
Cathy T. Rambach – Secretary
Brent Williams – Treasurer
Darlene Schultz – President and CEO
Ellen Alsobrook
Tommy Burda
Pat Clifford
Jim Durrett
Jerolyn Webb Ferrari
Pat Gardner
Stanley S. Jones, Jr.
Gabriele Sexton Lockridge
Amy Mills
Michael Shelnutt
Joy Wilkins
Cliff Altekruse
Michael Libby
Alan Patricio
Patricia A. Reeser
Julie Semones